The Best 10 Leather Circle Round Bags to Own Now!
Posted by Annie Jewel on
The leather circle bags are in trend 2020 and they should be due to their unique shape. They have been called with many other names too like round bag, round purse, round clutch and even the circle purses and bags etc. So do not get confused when you look at different circle bags while comparing them on the basis of their design, shape, quality of length and size etc.
If you have not purchased a circle bag before, especially a leather circle bag, or looking for suggestions to buy a new leather round bag, then you should check out this article till the end because following I am sharing the list of world best top 10 leather circle bags.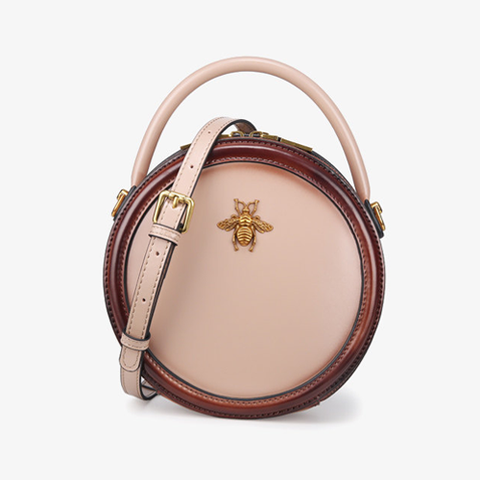 The following list of leather circle bags has included different types of leather bags including custom leather bags and vegan leather bags etc. So, you have a lot of verity below which will help you to purchase the best leather circle bag.
1. Circular Round Handle Handbags
This leather circle bag is a minimalist style which has been made for the daily use. Especially if you are a working lady, then this is an ideal bag to carry on your job and when you are attending the meetings. Its formal look and four different colors will suit with your formal dress. There isn't much detailed design on this circle handbag to keep it formal but there are stylish buckles included with easy to carry handle.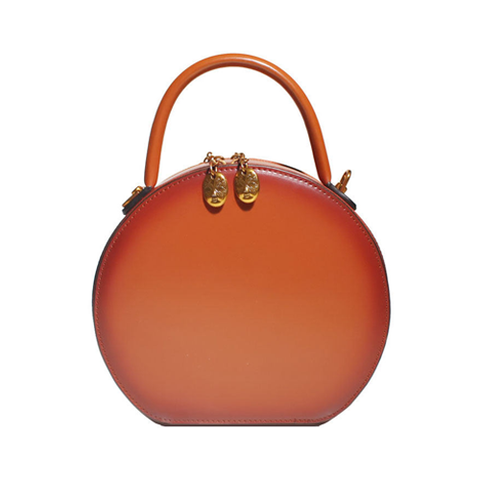 This circle handbag is made from the original handmade leather. There is no chemical or toxin has been used during the designing of this stylish circle purse. All of its colors are limited with the same shades except there have been dark shades added on the round shape of the purse so you can stand in the crowd due to this stylish leather and handmade purse.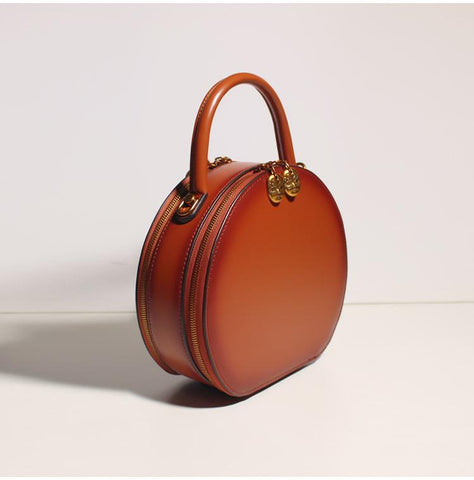 Specifications:
Its total dimensions are Inches: Height 7.9" x Width 8.7" x Depth 3.2"
with a total 0.6 KG weight. It has been made from pure Italian cowhide and it can be maintained without any polishing. With the help of a cloth and oil, this circle purse can be clean instantly.
Due to its simple design, this circle handbag can be also used as circle cloth and circle purse.
2. 
Leather Bumblebee Circle Round Crossbody Bag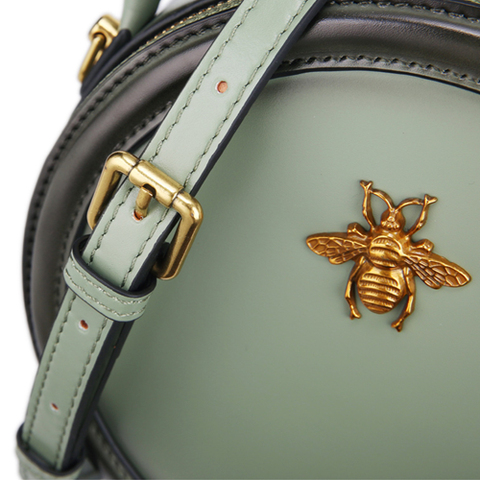 A red color handbag, purse or clutch represents the style. This pick is all about a red color circle handbag which has been made from pure Italian cowhide leather. It is a crossbody bag which can be used as a shoulder bag due to the lengthy shoulder strap which is included with the product. This makes easy for you to have the same leather bag on different occasions.
The finishing of this handmade leather handbag has been done perfectly. There are no scars or even any small mistake in term of pattern could be found. It is very plain and smooth ladies round purse. The beige color purse can be carried in any situation throughout the year as its look as much as stylish in winter as its look in the summer.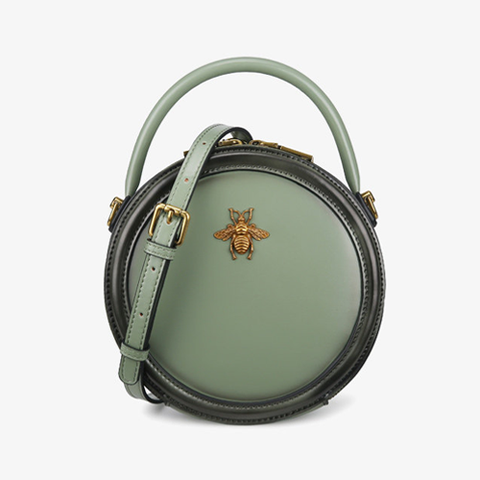 Specifications:
The size of this handmade leather circle purse is Inches: Height 7.5" x Width 7.5" x Depth 3.5" where its total weight is only 0.58 KG. Due to its size, there is limited space available in this leather bag that's why it has only 1 zip slot which is the main one. The leather is vegan leather (Vegetable Tanned Leather). This also shows that this masterpiece has been made for the fashion purpose most as compared to use it a bag to carry your necessities.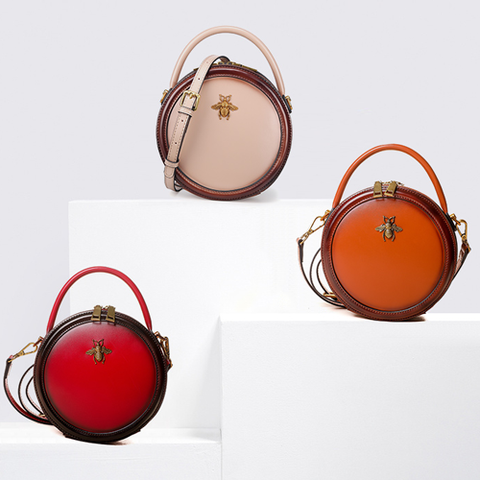 The cowhide which has been used in the production of this cowhide is very high in the quality and can be last up to five years. We are now getting leather products which included the use of alcohol while this leather circle purse and all of the above products are free from any of these types of chemicals. To keep these bags original, we have only performed the organic process.
3. 
Mini Leather Round Canteen Crossbody Bag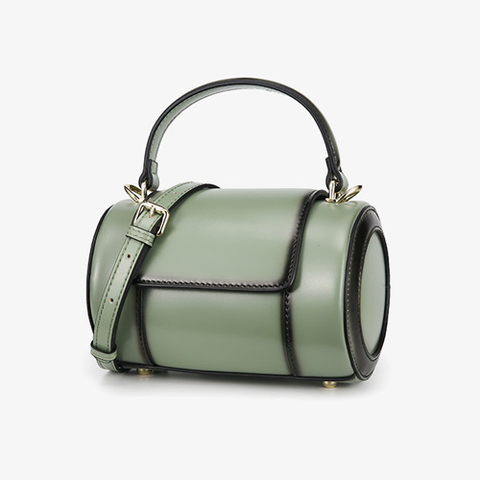 Only the expert knows the importance of leather products which has been made from the original cow leather. This crossbody bag looking circle bag is made from the pure cowhide, that's why; it has original scars and callus which increases its value and additional beauty on it. If you are looking for a clean leather circle handbag, then this is not for you or you are not aware of the genuine leather. Only the true lover knows the importance of leather traces which can be noticed with the help of callus and scars. So, think twice before you ignore this plane leather handmade bag.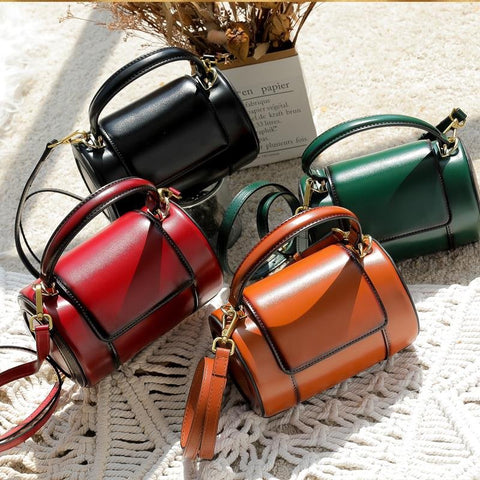 As this is a handmade handbag, you may see some handmade traces on it but the manufacturers keep it as plain as possible for them. This shows the quality of the leather and originality that it is really made by hand and no machinery included. Originally this circle handbag or purse has been made from the white cow leather but later painted in different colors due to the high demand of it by the professional master. It is available in five different colors. All of the paint has been done before craft man has given it the circle shape. So, you won't see any painting error in the design of this circle purse.
Specifications:
 Inches Inches: Height 5.1" x Width 7.9" x Depth 5.1" is the total dimensions of this circle purse which is enough to put your daily necessary items. Its total weight is about 0.5 KG and it has been made from original cowhide by hand. Available in five different colors. It has 3 different zip slots; 1 inner slot, 1 main slot and 1 zip inner slot.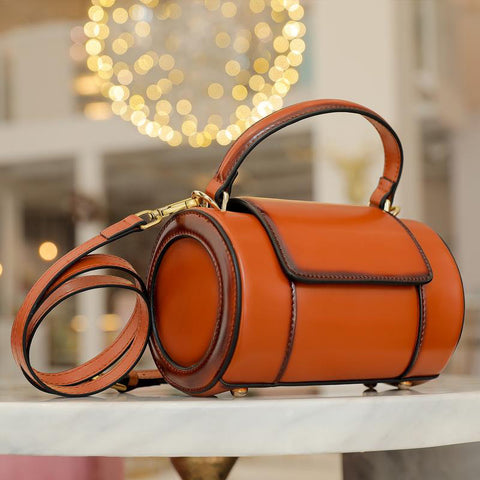 The design of this circle bag is enough to replace it with your ordinary clutch. This circle cloth is in t demand and is easily fit with all trending dresses.
4. Round Shoulder Circle Cross Body Bag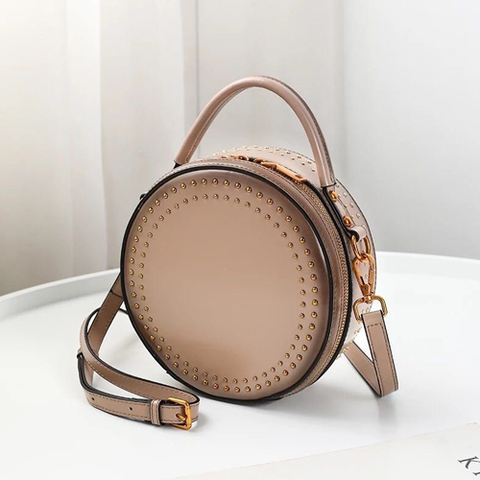 WOW, what a bag! I know that this would be your first thoughts when you look at the photos of this black circle crossbody handbag clutch which is available in five different colors with the same design. You can use it in two different ways; as circle purse and handbag. This could be done due to its adjustable length slot which allows you to carry this circle purse on your shoulder to match the trend. It is available in very unique five different colors where an addition of dotted golden circle just enhanced its overall look. We love this brand due to its unique design and unique colors.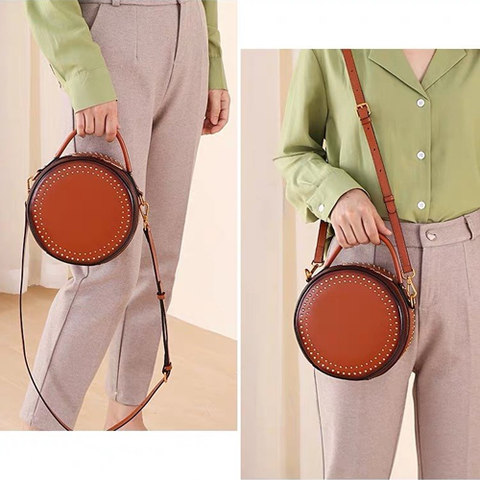 This circle crossbody bag has been made from 100% pure cowhide. There are always some traces left on the leather product which enhance the overall style of the product and customer look for such traces on the leather bag. This also ensures that they are really purchasing the original cowhide leather product. While this round crossbody handbag has been made by hand but still there is no error, scars or traces left behind by the person who made this handmade circle bag.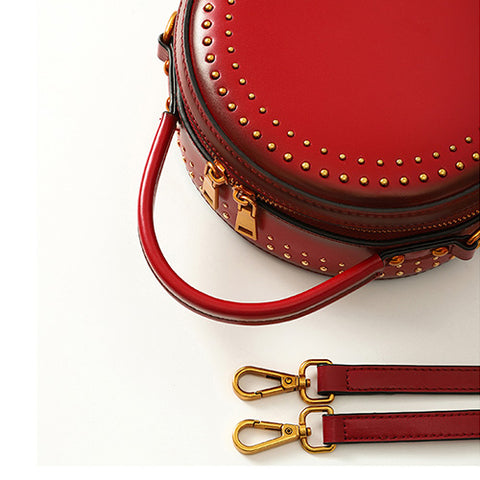 Specifications:
The total dimensions of this round bag are L 8.3" x W 3.1" x H 7.5" with 0.68 KG. It has been made from white cowhide which has been painted later with different colors before stitching and shaping. It has different slots including 2 zip slots and 1 inner slot which allow you to carry your required stuff easily. For trending colors, it is available in five different colors with the same design and shades.
We ranked this circle purse one of our favorite due to its high demand and reasonable price.
5.  Vintage Style Leather Circle Crossbody Bags
If you are looking for a circle purse or handbag which is neither formal and nor informal then you have to look at our next pick. There is excellent work of art has been done on this handmade leather bad which suits in both formal and informal situation. You can carry it while going to work or just take it to attend a family event. This handmade leather round bag goes well in all situations. This bag may look similar to the previous one but the main attraction of this bag is the steel artwork which has been done by the craft man without using any complex machinery. This work can show the hard work of the person who made this whole handbag by hands.
The main part of this circle clutch is made from the original leather which has been collected from cowhide while the art on this bad has been done by the steel. Both, leather handbag and the artwork on this bag is 100% durable and last longer only if maintained properly and cleaned on regular basis with proper products. It is available in four different colors which allow our customers to purchase one which matches with their fashion style most. Each of these colors is unique from each other. Instead of using general colors, we have used the unique shades of all of them to give something totally unique and new to our customers.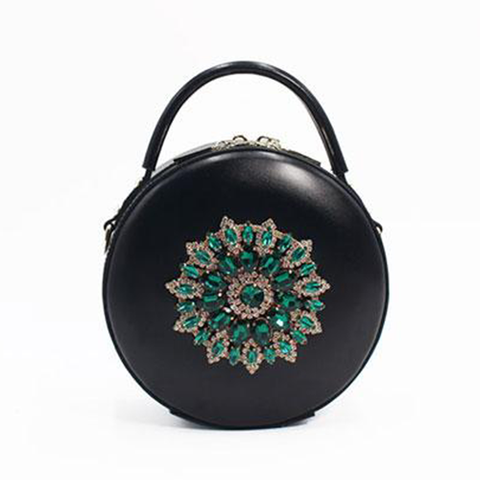 Specifications:
By size, its total dimensions are L 8.3" x W 3.5" x H 8.3" in  which makes it big enough to carry the necessary items and money. While it has steel artwork but still its total size is 0.68 KG which means that it is very easy to carry by hand or shoulder. It is available in four different colors which shades but same styles.
This circle handbag clutch received 100% positive ranking by our customer and the most important thing which they loved about this clutch is its design.
6.
Leather Circle Crossbody Bag Purse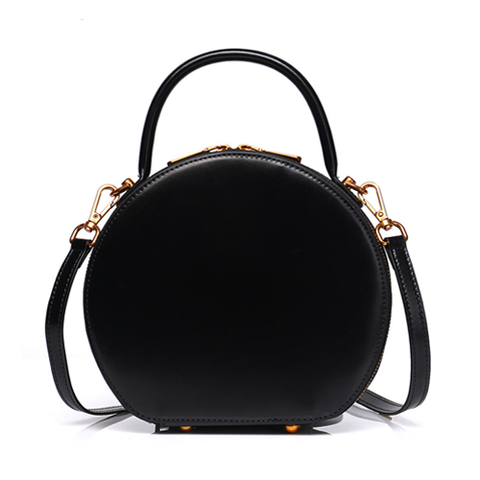 You cant call it to circle clutch, handbag or purse, but we did not find any other category to add it as it is close to the round shaped leather handbag. This is an advanced level design of round handbag for women which has been made by hand and available in multiple colors but with the same design and style. It has an adjustable strap which allows you to use it as a shoulder bag as well.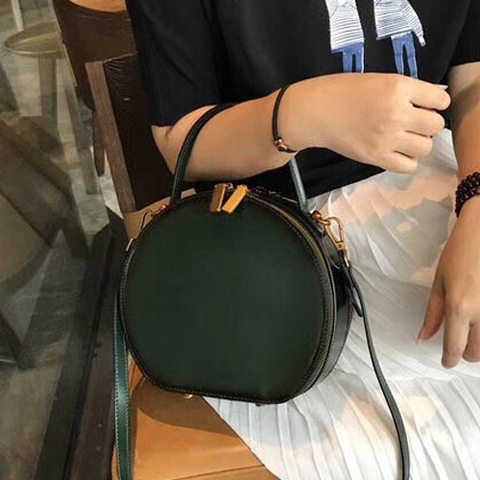 The original Italian cowhide has been used in the crafting of this handbag which has been later colored in different colors to provide a verity of circle handbags to our customers. All process during the manufacturing of this leather handbag has been done by hand to keep it original and special for our clients but still, there are no scars can be found over the plain design of this leather handbag.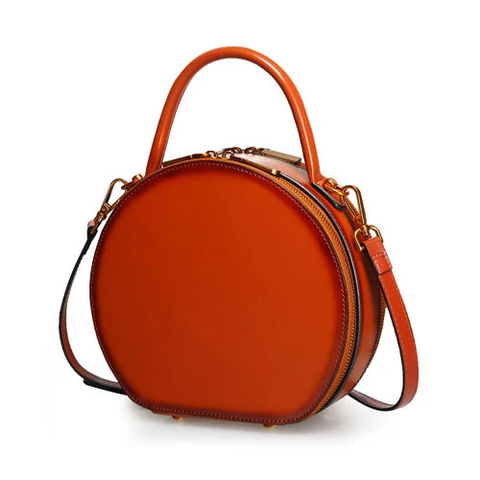 Specifications:
As you can see in the photos that this is quite a bigger circle purse than our previous picks. It measures at Inches: Height 7.9" x Width 6.3" x Depth 3.2". This allows you to carry maximum stuff for daily uses including money due to its inner zip slot. It has been made from Italian cowhide and available in three different colors. There is no other material has been used in the design of this purse including the big K which has been also made from leather.
This is an all-around circle handbag which can be used for daily use, office or even evening functions.
7. 
Round Leather Circle Cross Body Bag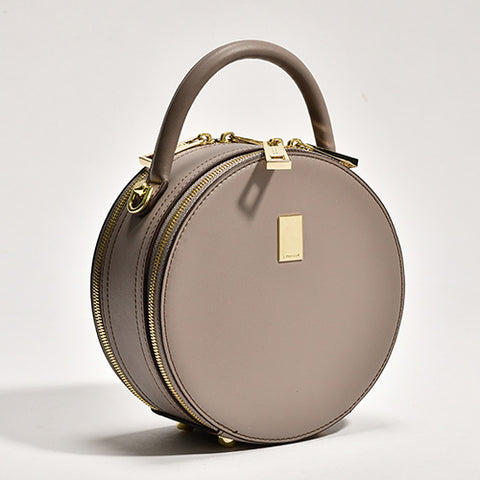 Women love to have original leather handbag because it is durable and it can be used for years with little care. This eases them to purchase new handbags with the passage of time. But at the same time, they have to use an old-fashioned handbag. To understand this problem, we bring this simple but stylish handmade leather clutch which is in a circle shape as well. It does not matter that for how long you use this handbag, it will still remain new, stylish and trendy due to its simple look.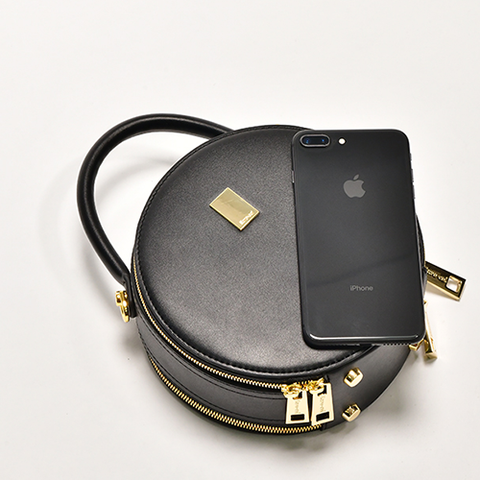 Like our other handbags, this circle leather clutch has been made from original cowhide (Italian) and 100% durable. This can be even clean with the help of cloth and water. There is no need to purchase maintenance tools at all. It is 100% handmade leather bag with no scars and fault in the design. It is very plain and looks like manufactures with the help of a machine where there is no machine used to make this leather handbag.
Specifications: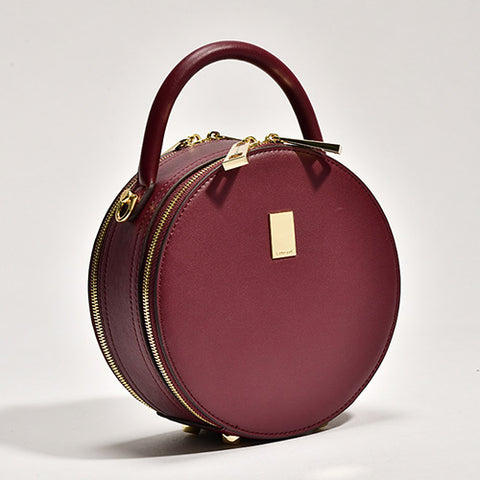 It is daily to use a handbag that's why its size is very general. Its total dimensions are Inches: Height 7.5" x Width 7.5" x Depth 3.2" with total 0.6 KG weight. Original cowhide has been used to make it durable and last for up to 5 years without any special maintenance. It has three slots including zip slots inside the bag. The strap of this bag can be used to make it a shoulder bag. For colors, it is available in two different colors. These colors remain in fashion for years.
Pick this handmade leather bag to enhance your personality and carry it to parties or office.
8. 
Leather Round White Circle Tote Bag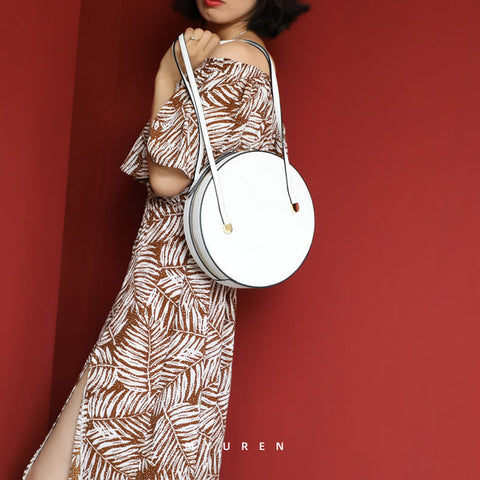 What interesting than having a handmade leather circle bag which can be used in both ways as handbag and shoulder bag? Out next pick is around crossbody bag which looks stylish whether you carry it is a clutch, purse or a shoulder bag. It comes up with an adjustable strap to make it a shoulder bag anytime. Due to the length of its shoulder strap, it can be carry as a backpack for the very informal look and style. Due to this bags these features, it is ideal for the college and school going girls but will look equally good on office ladies.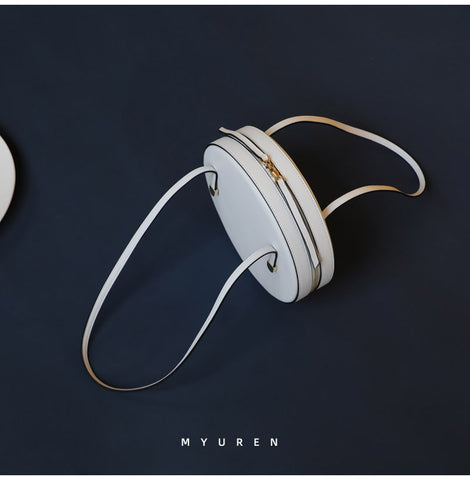 Other than its wearing styles, this leather bag is best in term of a simple and plain design. This allows one to carry it on any occasion. There is no artwork or extra strips added. Alone the shine of leather and original pattern of leather makes it stand in our other leather handbags. It is available in four different colors with the same style and pattern. So, one can purchase multiple handbags to match with the outfits.
Specifications: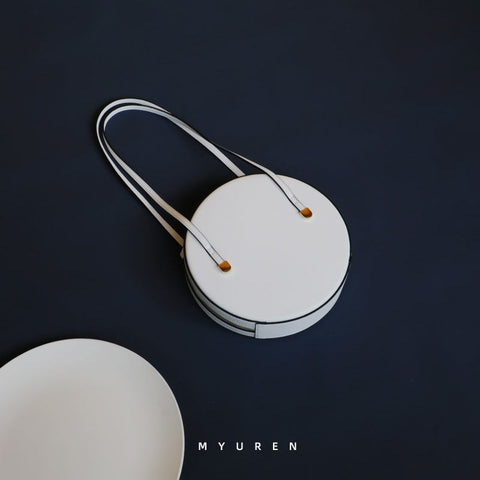 Its measures are Inches: Height 10.2" x Width 10.2" x Depth 2.4"In where its total weight it 0.6 KG. The weight of this bag is a bit higher than previous handmade leather clutches due to its size but it allows you to carry more stuff. Even one can have books in this circle handmade leather bag. It is made from cowhide and 100% durable and goes well even in the raining. No extra maintenance or polish required to keep its shine last for years.
Do purchase this round bag due to its lengthy strap which allows you to carry it as a backpack, shoulder bag and even as a clutch or purse.
9. Round Leather Shoulder Bags
A dark color handmade leather bag will never disappoint you ever as the leather is known for its dark colors that's why the majority of leather products comes in the same type of color schemes. The next pick my leather bag collection has the original shades of leather. It is available in different colors but the style is almost the same in term of dark shades around the corner. These type of handbag also classified as the vintage style circle handbags as they demand us for the old leather products which use to have the same type of color pattern.
This circle clutch is available in five different colors. Each of them looks stunning and goes well with different outfits on different occasion. The recent customers of this bag are very happy due to the shinning of the leather which does not require any polishing or special maintenance to keep it alive for years.
Specifications:
This is a daily to use circle handbag, that's why it is available in standard size. The measures of this handmade circle purse are Inches: Height 8.7" x Width 7.5" x Depth 3.2" with 0.6 KG. The leather which has been used in this base of this circle handbag is extracted from cowhide. This is pure durable leather which can last up to 5 years and goes well in all seasons. This bag has multiple slots to carry different things. It has 1 zip slot (inner), 1 zip main slot and 1 inner slot without a zip.
Have this durable circle purse to look more fabulous in evening and day functions.
10. 
Small Leather Circle Round Purse Bag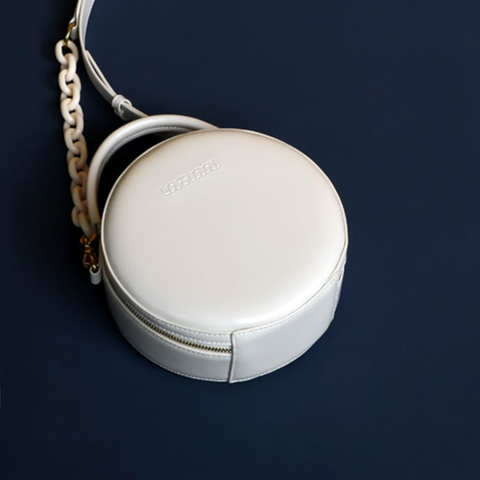 When we talk about a leather purse, clutch or a handbag, the first thing comes to our mind is pink and brown color. Our next pick is a pure brown color leather circle handbag. By color, it may look a little different than the general leather products which are classified as pink. This is the spatiality of this round leather bag. We tried to keep it different from leather bags which are easily available in the market but do not have a unique color.
This is a customized handmade leather bag which allows you to add your own artwork on this bag including your name or the name of your loved one. This is an ideal bag to gift someone on their special day with customized designed.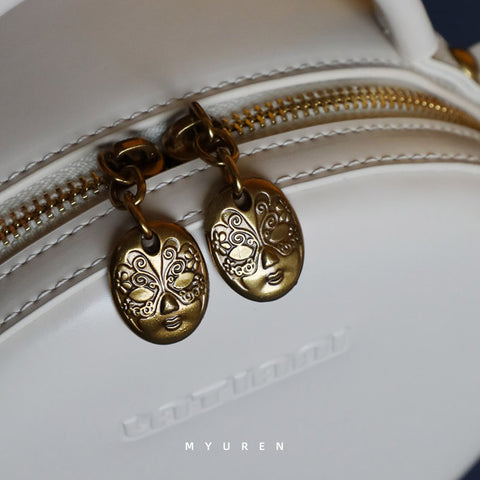 This leather bag has been made from vegan leather of vegetable tanned leather which is handmade and includes zero chemicals. The quality of the leather is very high and durable which means that it can be least for many years (at least 5 years). Once you purchased this circle leather bag, you don't need to worry about to purchase a new one as this bag does not require any specific maintenance and it will still last for a lifetime.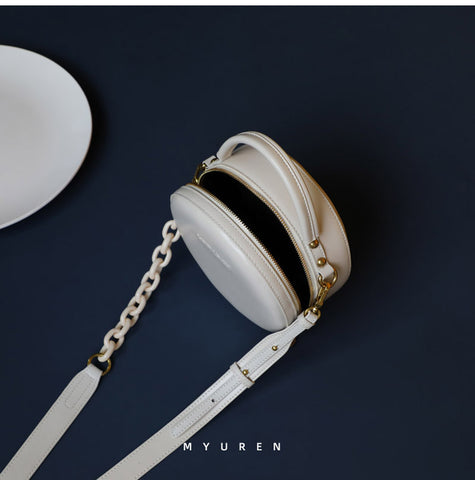 Specifications:
The measures of this circle clutch are Inches: Height 7.5" x Width 7.5" x Depth 3.5" with 0.5 KG weight. It has three different slots including 1 main and 2 inner slots. It is a durable bag with a very clean design.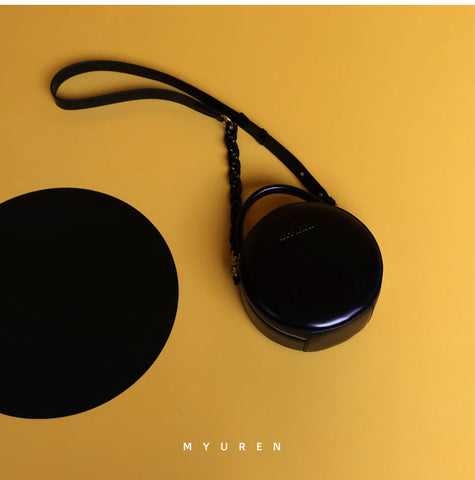 Don't just buy one for yourself but one customized leather handbag for your friend.
Conclusion
Do you like our suggestions? Let us know that which leather circle bag is your favorite and what makes it perfect for you. If you have any other suggestion to share with other readers then do not shy to share with us. We would love to know that what does our readers like and what should we include in our future top 10 leather circle bags list to help our readers to pick the best bags from our online store: AnnieJewel.com
---
Share this post
---
---
---
0 comment